ST-1 ultrasonic thickness gauge made by our factory is a simple-to-use, highly accurate, hand-held ultrasonic thickness gauge with the operating principle of ultrasonic wave measuring. It can measure quickly, nondestructively and precisely with a resolution of 0.1mm or 0.01in. This instrument can be widely used in the fields such as manufacturing, metal processing, chemistry and business inspecting for measuring the thickness of all sorts of materials where ultrasonic wave can spread through with a constant speed and get the reflection from the back side. Apart from making accurate measure on various kinds of plates and processing components, it can also make detection on various kinds of pipes and pressure containers of the manufacturing facilities about their thickness loss after corrosion. ST-1 is an incensory specialized instrument for material protection.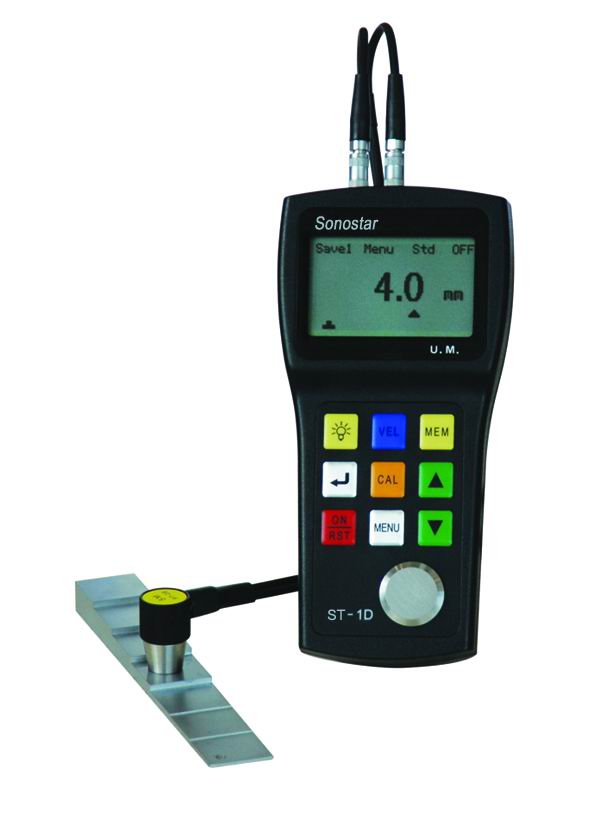 Standard package:
ST-1 thickness gauge
Standard probe (PT-08)
Carrying case
Two 1.5V AA alkaline batteries
Couplant
Operating manual
Certification of quality
Packaging list
Operating principle:
Ultrasonic pulse/echo method with dual-element probes
Probe zero adjustment:
Selectable: 1-point calibration: normal measurement
2-point calibration: curve surface measurement or other special application with a high precision
V-path correction:
Automatic
Measuring range:
0.8mm to 300mm; 0.031in to 11.81in
Depending on probe, material and surface condition
Digital resolution:
0.001in or 0.1mm
Units:
Selectable: inch or mm
Display:
128×64 dot-matrix LCD screen (1.65in×2.24in; 42mm×57mm)
EL backlight and switchable contract ratio
Digit height: 0.54in or 13.75mm
Measurement update rate:
4 Hz in standard measurement mode
25 Hz in MIN capture mode
Material velocity range:
1000 to 9999 m/s; 0.039 to 0.394 inch/µs
Power:
Two 1.5V AA alkaline batteries
Warning with low battery voltage
Operating time:
Up to 200 hours (without backlight) with alkaline batteries, depending on operating mode
Auto shut-off:
After 5 minutes of non-use
Operating temperature:
-10℃ to +50℃; +14℉ to +122℉
Specification to -20℃/-4℉ on request
Size:
5.86in×2.87in×1.25in; 149mm×73mm×32mm (H×W×D)
Weight:
200g; 7oz (including batteries)
Data logger capacity:
Up to 500 readings can be divided into a maximum of 5 files (user-selectable)
Optional accessories:
Attachable rubber case
Numerous special probes on request
Couplants and high-temperature couplant
4-step/6-step block for calibration
Data transmission cable
Application software
Operating language:
English and Chinese
Measuring error:
Up to 1in: ±0.002in or ±0.1mm
Above 1in: ± 1%H
H is the height of the testing object
Repeatability:
±0.001in or ±0.1mm
Application software:
UMVIEW
Interfaces:
Serial RS 232C port in combination with a communicative cable;
Data transfer parameters: 8 bits, 1 stop bit, 9600 baud, no parity.